Hydraulic Puller SA-YQ60 is 6 ton overhead pulling machine for stringing one or two conductors on 220KV transmission line. It is equipped steel bull wheels which can be used for pulling anti twisting steel wire rope up to 18mm diameter.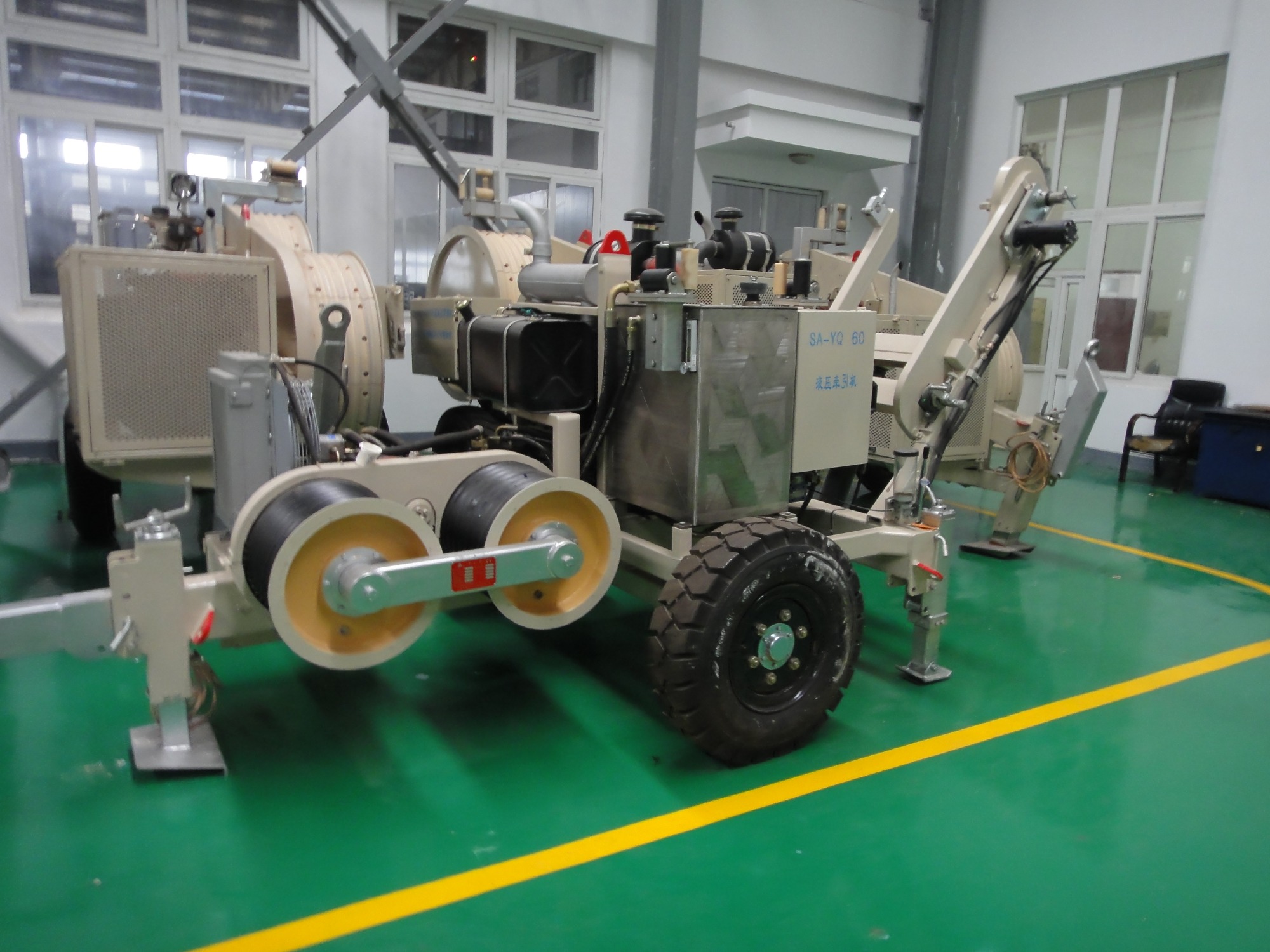 1.
SA-YQ
6
0 Hydraulic
Cable
Puller
| | |
| --- | --- |
| Item No. | 07031 |
| Model | SA-YQ60 |
| Stringing capacity | 1 PILOT WIRE ROPE |
| Max. Pulling Force (KN) | 60 |
| Continuous Max. Pulling Force (KN) | 50 |
| Speed at Max. continuous pull: | 2.5km/h |
| Max. Pulling Speed (m/min) | 5km/h |
| Root Diameter of Bull wheel (mm) | Φ460 |
| Number of grooves | 7 |
| Max. Steel rope Diameter (mm) | Φ18 |
| Model of Diesel Engine | Water cooled diesel engine |
| Power of Diesel Engine | 77 KW |
| Rotate Speed of Engine (rpm) | 2800 |
| Electrical System | DC24V |
| Weight (kg) | 3000 |
| Dimension (m) | 3.8 x 2.1 x 2.3 |
Application: The hydraulic puller is used to pull pilot wire rope for overhead transmission line
Stringing
.
It is equipped with
diesel engine and closed
hydraulic system,
it
can be easily used and maintained
Features:
-With closed hydraulic circuit and variable displacement plunger pump, the pulling force could be step less controlled
, and can be read on the line pull gauge
.
-The max pulling force for stringing operation can be preset.
-Automatic over pulling protection system
-With the radiator imported from Germany, the machine has good heat dissipate performance.
-With a negative spring applied hydraulic released brake, and automatic overload protection.
-With hydraulic oil cooling system.
-Heat treated wear-proof
steel
bull
wheels
-With rigid axle for towing at high speed, the machine looks beautiful.
-Integral self-loading reel winder with automatic level wind.
-Heavy duty R-tires with excellent shock-absorbing performance.
Main Components:
-Engine: Cummins water-cooled diesel engine (China)
-Main variable displacement hydraulic pump and main motor: Rexroth (Germany)
-Reducer: R.R. (Italian)
- Main hydraulic valve: Rexroth (BOSCH)
-Hydraulic instruments: WIKA (German)
-Radiator: AKG (German)
- The hydraulic reel winder is equipped with 1400mm diameter steel drum (GSP1400)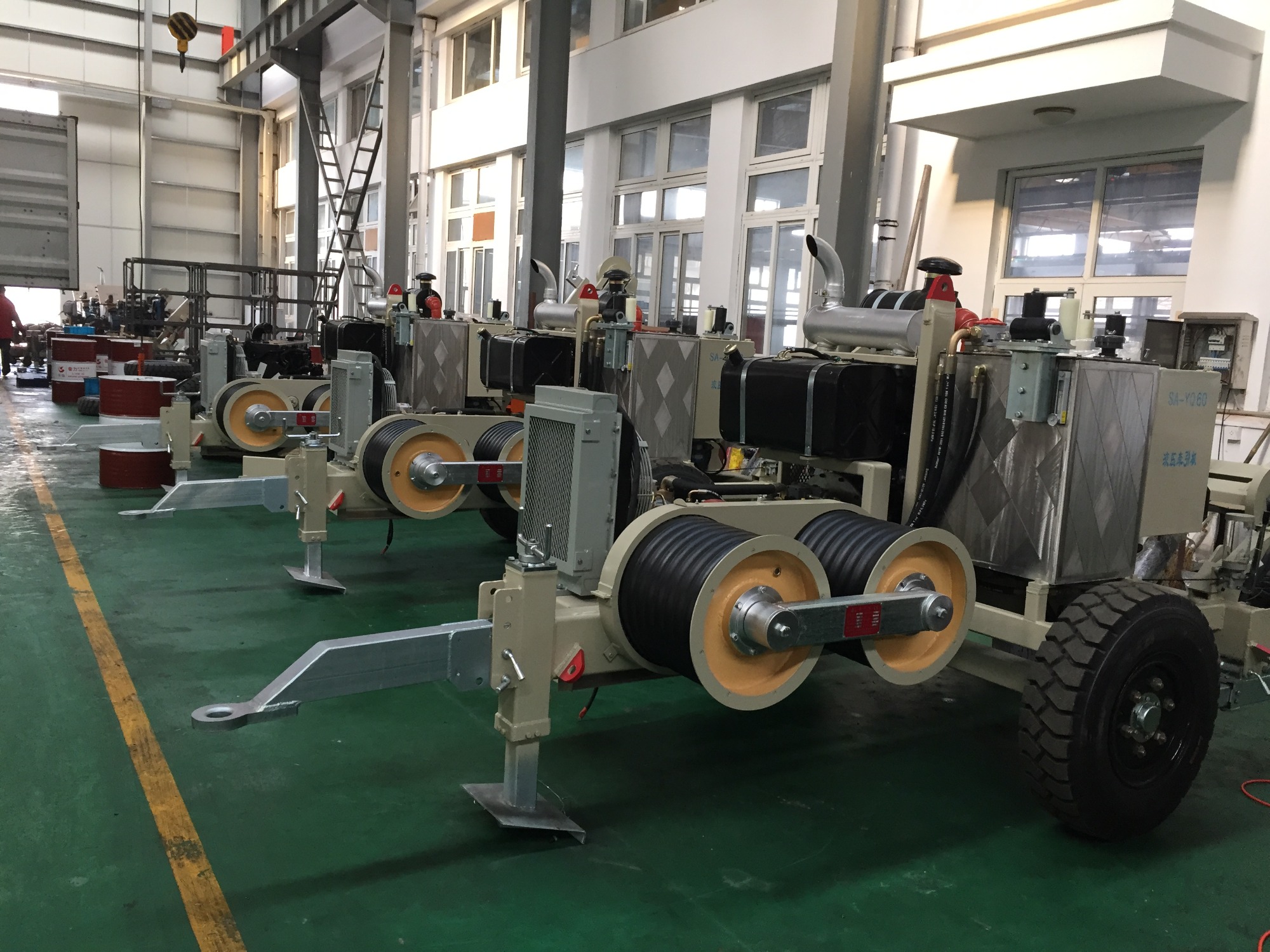 We produce full set of hydraulic puller and tensioner for overhead transmission line stringing up to 1000 KV in China.
Hydraulic Conductor Stringing Equipment
| | | | | | |
| --- | --- | --- | --- | --- | --- |
| Item No. | Model | Description | Pulling Force | Tension Force | Remark |
| 07001 | SA-YQ30 | 3 ton hydraulic puller | 30 KN |   |   |
| 07011 | SA-YQ40 | 4 ton hydraulic puller | 40 KN |   | CUMMINS |
| 07031 | SA-YQ60 | 6 ton hydraulic puller | 60 KN |   | CUMMINS |
| 07041 | SA-YQ90 | 9 ton hydraulic puller | 90 KN |   | CUMMINS CHINA |
| 07042 | SA-YQ90D | 9 ton hydraulic puller | 90 KN |   | CUMMINS AMERICA |
| 07051 | SA-YQ180G | 18 ton hydraulic puller | 180 KN |   | CUMMINS CHINA |
| 07052 | SA-YQ180 | 18 ton hydraulic puller | 180 KN |   | CUMMINS AMERICA |
| 07061 | SA-YQ220 | 22 ton hydraulic puller | 220 KN |   | CUMMINS |
| 07065 | SA-YQ250 | 25 ton hydraulic puller | 250 KN |   | CUMMINS |
| 07071 | SA-YQ300 | 30 ton hydraulic puller | 300 KN |   | CUMMINS |
| 07075 | SA-YQ420 | 40 ton hydraulic puller | 420 KN |   | CUMMINS |